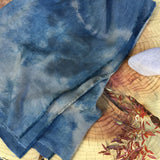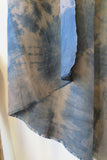 hand dyed belgium linen wool blanket - Lookout and Wonderland
These collection of hand dyed medicinal blankets were made just for FOUND AND MADE by Lookout And Wonderland.  They are inspired by the feeling and beauty of the sand and sea of Makenna in Hawaii.  Hand made with medicinal plants in the art of Ayurvastra . Medicinally dyed fabrics have been used in various cultures since ancient times.  These cloths are soaked in a myriad of medicinal herbs intended to provide healing to the body and spirit.  
Made with Black Walnut hulls, Chestnut Bark, Cleavers, Mugwort, Myrobalan, Nettles, Red Clover and Wild Indigo Root. 
Please get in touch with us for the full listing of beneficial properties.
Libeco Belgium LInen and Wool.  (90/10). 
Dimensions: 58"W x 66 "L